Gwen Verdon was born on January 16th, 1925 and died Wednesday, October 18, 2000 at age 75. In honor of the actress, Broadway theaters dimmed their lights at 8 p.m. on the night she passed.

Verdon, who was married to choreographer Bob Fosse, worked intermittently in films in the 1950s and re-created her role as the seductress Lola in the Broadway hit Damn Yankees for the 1958 film. Her big number in both versions was the song: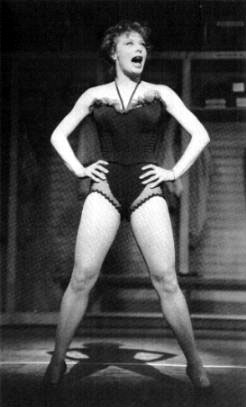 "Whatever Lola Wants."


But she was best-known for her stage work, in such musicals as Redhead, New Girl in Town, Sweet Charity, and Chicago.

Born Gwyneth Evelyn Verdon in Culver City, Calif., the sexy yet vulnerable performer had been an obscure dancer in numerous films when her star-making turn in Cole Porter's Can-Can (1954) stole the show from Lilo, the production's highly touted Parisian import. "Gwen Verdon is the musical comedy sensation of the season," wrote Time magazine. Verdon won her first Tony for the role.

Verdon worked with her mentor, choreographer Jack Cole, on the film Gentlemen Prefer Blondes (1953) and she is often credited with having taught Marilyn Monroe and Jane Russell how to dance for the Howard Hawks classic.

Gwen Verdon netted three more Tonys in quick succession for her starring roles on-stage in Damn Yankees (1956), New Girl in Town (1958), and Redhead (1959), all of which were directed or choreographed by her future husband, Bob Fosse.

Harvey Hohnecker, Verdon and Harvey Jung
perform "The Sunshine Girl" in New Girl in Town


Married in 1960, the couple separated in 1971. "We're still good friends," Verdon said at the time. They had one daughter, Nicole. In the 1940s, Verdon was married to James Henaghan, whom she divorced in 1947. They had one son, Jimmy.

Verdon worked closely with Fosse to re-create the original choreography for a 1986 revival of Sweet Charity and served as artistic adviser on the current Broadway production of Fosse, a compilation of the late choreographer's work from TV, film, and the stage.

She also had a number of straight dramatic parts on TV and film in the 1980s and '90s.

"I've been Tom Selleck's mother [on Magnum, P.I.], Richard Gere's mother [in The Cotton Club], and Mia Farrow's mother [in Alice]. They called me Mama Mia," said Verdon. Other film credits included Cocoon and Marvin's Room.

In 2000, she completed work on the features Bruno, directed by friend and fellow hoofer Shirley MacLaine, and Walking Across Egypt, directed by Arthur Allan Seidelman.